Social Media Management
We understand that your Social Media Platforms need to be updated and remain relevant.
If your team is too busy to handle the content building, posting, and strategy let us help!
We can provide all levels of support to fit your budget. Start by reviewing the packages below!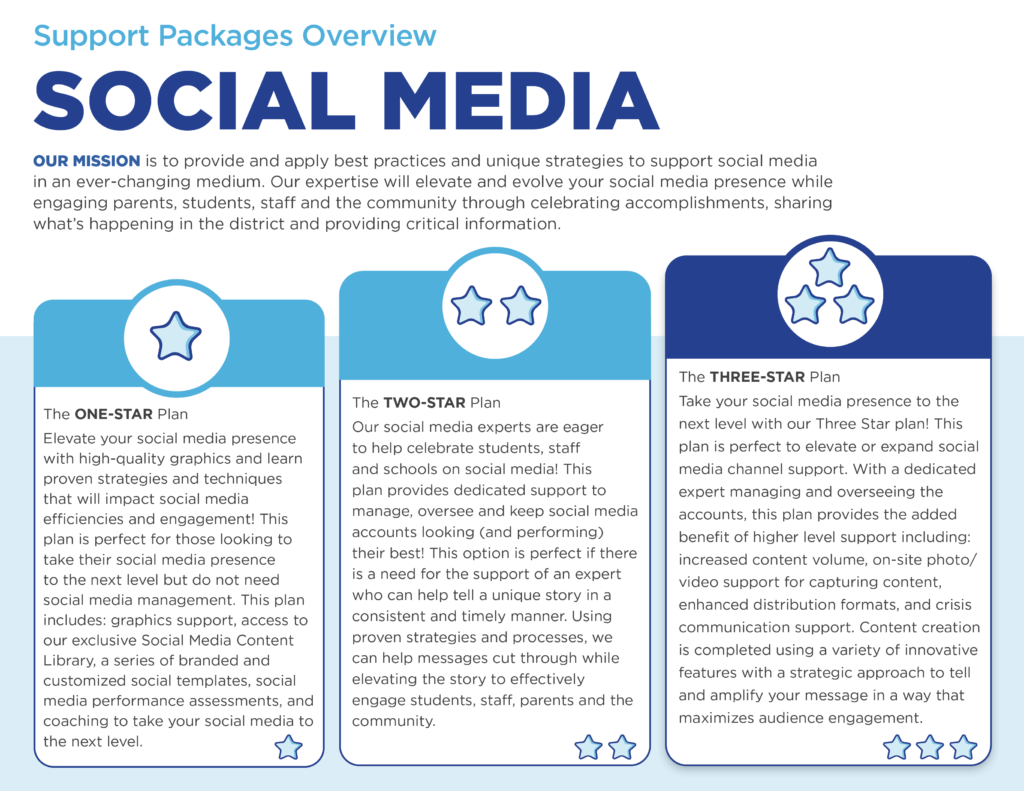 We apply best practices and unique strategies to our social media management
With more than 70% of the US population using social media (according to a Pew Research Center study available at www.pewresearch.org/internet/fact-sheet/social-media/), school districts must have a social media management plan to effectively integrate and utilize this platform into their overall communications strategy. Understanding how to evolve and stay relevant amidst an ever-changing and growing competitive landscape is equally important!
As the volume of content on social media continues to rise, schools are facing new obstacles and finding it harder to reach their audience and connect with their community on these channels. Competition can be amplified by algorithms, making it even more difficult to cut through with your unique message.
The most effective social media management plans for schools are intentional and strategic and provide relevant and engaging content for a broad community. Understanding communication trends, staying current on new social media features, learning time-saving techniques, designing compelling graphics, and creating content takes time, expertise and planning. All of this can lead schools to fatigue, as staff members struggle to identify an ROI that makes the work worth the reward.
The social media experts at Allerton Hill Communications are here to help take your social media presence to the next level! Whether you need: a fresh look at your current plan, ways to evolve, access to a library of content to add variety to your channels, professionally designed graphics to elevate your look, or full support of your social media accounts, we can help you achieve your goals!
Contact us today for more information on our social media management options.