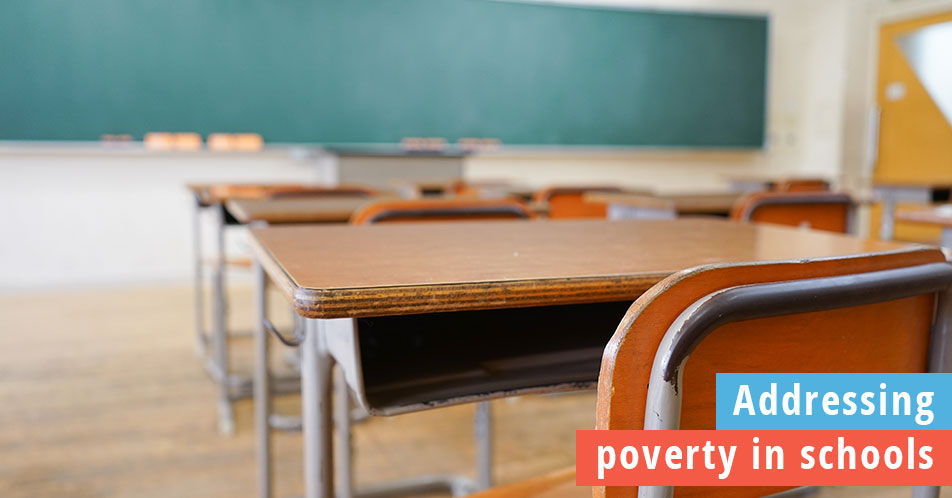 January 25, 2018
Addressing poverty in schools with Luke Shaefer
We Love Schools host Joel Gagne speaks with Luke Shaefer, Professor of Public Policy at the Gerald R. Ford School of Public Policy at the University of Michigan, about addressing poverty in schools. The two discuss what can be done to help all children reach their full potential.
A recent study showed that nearly half of the students in public schools are eligible for free or reduced-price lunches.
"One out of every two kids fits the threshold of low income," Luke says. "I just think that teachers have a lot to deal with that's really outside of their control."
Joel and Luke discuss food insecurity and the negative effects that it has on students.
"There's an awful lot of evidence that the access to lunch and breakfast are positive benefits that can impact the kids," Luke says.
Luke suggests that schools explore ways to cut down on the stigma that's associated with free and reduced-price lunches. He says there are ways to provide food to the low-income students without singling them out. He also suggests that thought goes into the design of lunchrooms to encourage better food choices.
Joel and Luke discuss how schools can build trust among the community by becoming a hub. He says that addressing poverty in schools successfully includes both helping the students as well as the parents, and this can be accomplished by partnering with doctors to offer healthcare and other services.
The two discuss SNAP, and how much a lack of food can affect a student's performance.
Luke explains that if teachers administer a test during the best part of the SNAP benefits cycle, the students are likely to perform better on the test than if the test is at the end of the cycle.
Another facet of addressing poverty in schools is to offer enriching summertime activities for all students. While all students tend to improve throughout the school year, there's a disparity during the summertime. Higher income students tend to stay the same or improve, but lower income students tend to fall back during the summer months.
"Higher income kids have a lot more exposure to enriching activities," Luke says. "They're going to camp, they're learning all the social skills that are important to continuing to do well in school. They're getting a lot of cognitive stimulation, and those opportunities just aren't as apparent among low-income kids."
Joel agrees that summertime enrichment is incredibly important, and he shifts to discussing the book that Luke co-wrote, "$2 a Day." Joel asks if Luke can share an example of when combatting poverty in schools ended in a true success story.
Joel and Luke discuss various initiatives put on by the University of Michigan, including the HAIL Scholarship and the Go Blue Guarantee.
Joel and Luke discuss the importance of intervention at all ages.
When Joel asks what one book Luke would recommend to our listeners, he suggests "How Children Succeed." Luke says that it's a great book to understand how we we operate based upon the circumstances we're in. He also suggests "Evicted" to help understand addressing poverty in schools.
Listen to the full We Love Schools podcast episode about addressing poverty in schools. 
Interested in learning more about how the Allerton Hill Consulting team can help your school? Contact us today.
Be sure to subscribe to We Love Schools on iTunes.