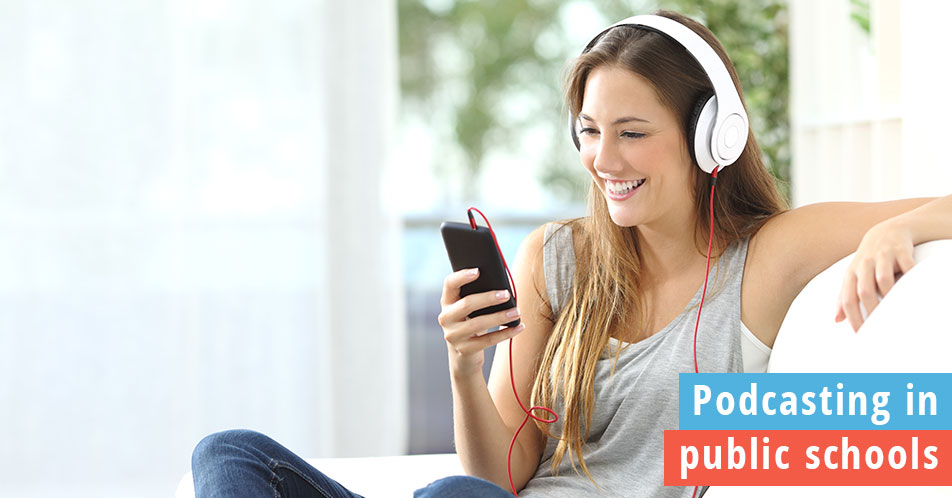 December 1, 2017
Discussing podcasting in schools with Nick Jaworski of Podcast Monster
Host Joel Gagne speaks with Nick Jaworski of podcastmonster.com about podcasting in public schools. Nick is a former music teacher and current podcast producer, and the two discuss how public schools can use podcast to effectively communicate with their communities.
In addition to producing the We Love Schools podcast (Thanks, Nick!), Nick produces many others, so he is very familiar with the process of starting a podcast. As a former music teacher, Nick has a unique perspective on the challenges that schools face when trying to communicate effectively.
Joel mentions that podcasts are a great way for schools to connect with their communities without much money or time being involved.
"I get the whole litany of excuses," Joel says. "It's complicated, and it's expensive, and how do you get guests? The bottom line here is I see real benefits."
Nick says while the assumption is that podcasting in schools is complicated, it's really not.
"Podcasting isn't rocket science," Nick says. He says the most difficult thing about podcasts is to make sure to keep track of the podcasting and to make sure it gets done.
"Any school district with a staff, and an administration, and hundreds of students has enough people around to want to take on a project like this," Nick says.
The two discuss the benefits of audio versus video, and both agree that people tend to be much more relaxed on podcasts than videocasts.
"Number one, I didn't have to shower for this interview," Nick laughs. "People are much more comfortable to participate in an audio format than they are in a video format."
Nick says that podcasts make it easy to get information right to the phones of the people in your community. He estimates that most schools probably have the equipment they need to start podcasting. If they don't have the equipment yet, Nick guesses it would cost the school less than $200 to get started with a podcast.
Both agree that podcasts are a great way to share success stories from the school by letting students speak.
"If you can hear directly from children, and hear their passion, and hear how smart they are, and hear how creative they are, then you're going to be making good stuff," Nick says. "Student voice is such a powerful thing."
Rather than get bogged down in trying to be perfect, Nick suggests that schools get a mic, some software and then try out podcasting.
"Don't let perfection get in the way of good enough or getting it done," Nick recommends. "People are used to informal podcasts."
For his book recommendation, Nick suggests our listeners check out "Let's Talk About Love: A Journey to the End of Taste."
Listen to the full We Love Schools podcast episode on podcasting in schools. 
Interested in learning more about how the Allerton Hill Consulting team can help you dive into podcasting at your school? Contact us today.
Be sure to subscribe to We Love Schools on iTunes.