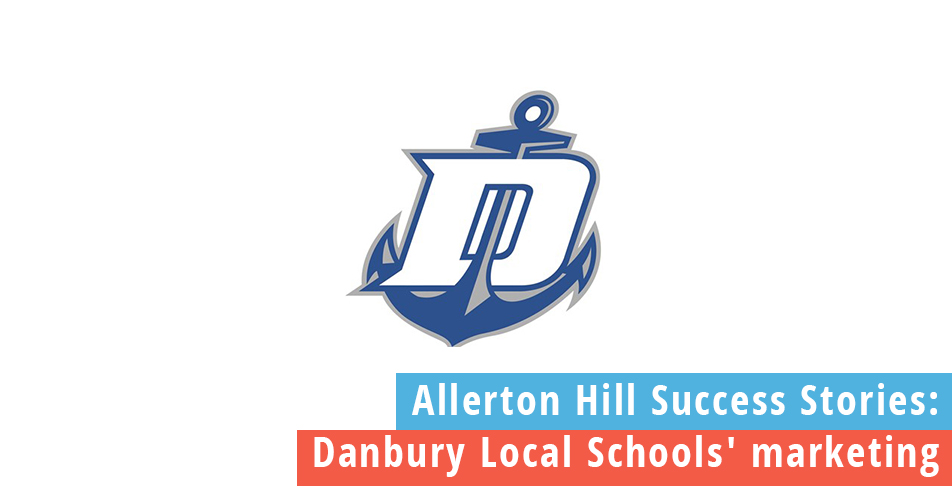 November 8, 2017
Danbury Local Schools' Marketing Outreach leads to increased enrollment
We're thrilled to share the recent success of Danbury Local Schools' Marketing campaign. Amanda Morris guided an outreach strategy that led to great results for Danbury Local Schools in Lakeside-Marblehead, Ohio.
Danbury Local Schools worked closely with Allerton Hill for its outreach strategy. The first step of the strategy was to conduct a series of surveys. The surveys showed that many people in the five-county area didn't even realize that Danbury Local Schools was an educational option.
Morris' strategy to spread the word about Danbury Local Schools included the development of a logo and a brand to promote the district via newsletters, social media, movie theater ads, billboards and additional advertising options.
The result of the Danbury Local Schools' marketing strategy was an additional 20 students and $120,000 in open enrollment funds.
Danbury Local Schools Superintendent Dan Parent says the marketing strategy is a success. Morris' marketing strategy has generated interest for families to attend the schools.
"I'm so excited about the hard work that Danbury Local Schools is doing," Morris says. "School choice has been a reality in pubic education for many years now, and Danbury Local Schools has done a great job of taking control and telling their story rather than letting others do it for them. Their hard work has created real results that are providing great benefits for both students as well as the community."
Morris explains that marketing isn't an option for public schools any more, it's a necessity.
"If you as a school leader don't take control and ownership of telling your school district's story, then someone else will do it for you," Morris says. "If you want people in your schools and region to support the students, teachers and leaders in your schools, then you must take proactive steps to ensure they have the information they need to understand what your school district is and what it is not. To put it another way, today's schools must be deliberate about developing a strong brand and protecting that brand as fiercely as companies like Coke, Apple or Procter & Gamble."
Read more about the Danbury Local Schools' marketing strategy and the success it led to in enrollment for the district.
Is your school district interested in learning how community outreach can increase enrollment? Contact the Allerton Hill Consulting team today.