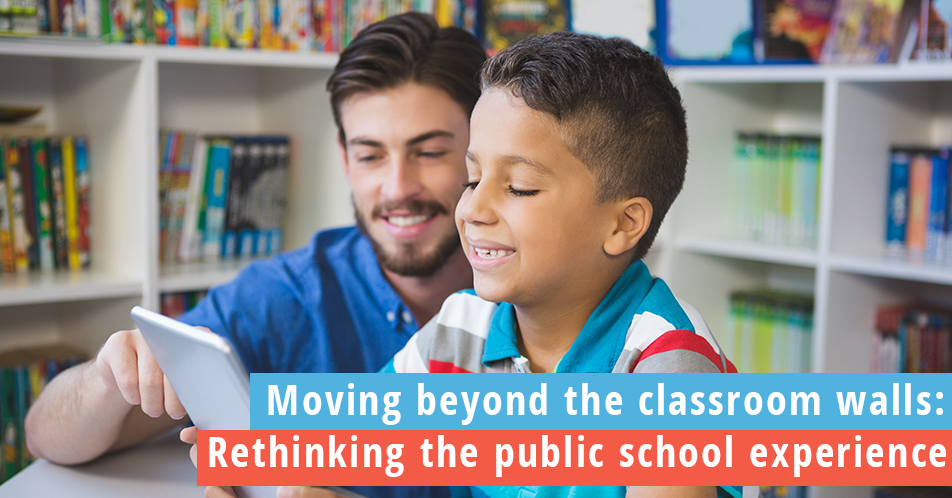 November 6, 2017
Moving Beyond the Classroom Walls: Rethinking Public School
In the latest episode of the We Love Schools podcast, host Joel Gagne speaks with Dr. Dave Palzet, superintendent of Pleasantdale Elementary District 107 in Illinois. Gagne and Dr. Palzet discuss how educators are moving beyond classroom walls and rethinking public school.
Dr. Palzet explains that his personal mission is to create opportunities for others, so leadership in public schools is the perfect role for him.
He's excited to see recent shifts in rethinking public schools that had led educators to focus more on what works best for the students rather than the adults.
"We're moving away from a structure that's about adults, and moving toward a structure that's about kids," Dr. Palzet says. "We're giving kids what they need to be successful in the future."
He says that public schools are shifting to be less about memorization and more about collaboration and creation, and it's leading to an exciting time in public schools. He points out that while more of us carry around the internet in our pockets and have access to all sorts of information, it's important to teach students how to take those facts and figures and solve larger problems.
As Dr. Palzet discusses rethinking public school and the ways in which we teach, he says he's excited to see so many non-traditional learning experiences already being implemented in public schools.
For educators looking for inspiration on how to lead, Dr. Palzet recommends checking out the book "Leaders Eat Last: Why Some Teams Pull Together and Others Don't." For him, his goal in his leadership is to create more leaders, and he says that "Leaders Eat Last" does a great job explaining why this philosophy works.
Listen to the full podcast with Dr. Dave Palzet on rethinking public school, and be sure to check out We Love Schools on iTunes.