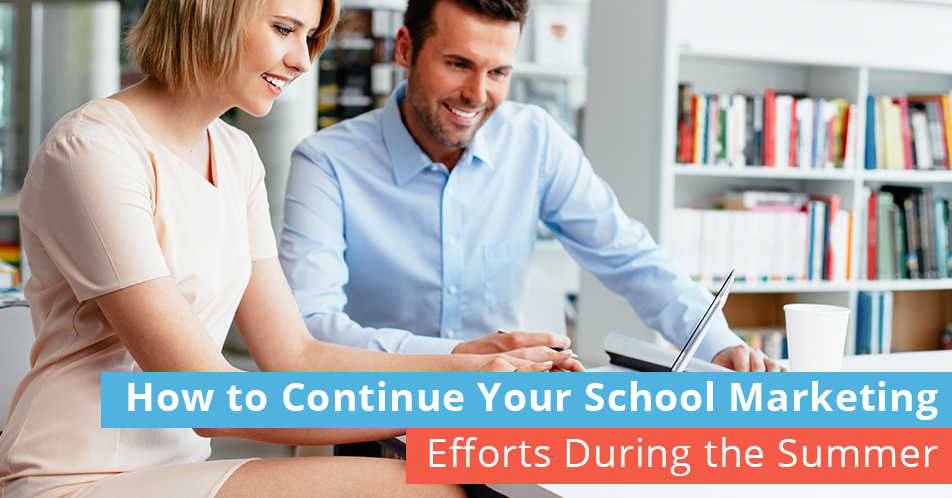 August 16, 2017
Summer vacation gives teachers and students a much-needed break from school, but that doesn't mean you should cease your efforts at marketing your school in the community. In fact, school vacation provides numerous opportunities for you to grow your presence and show off your commitment to the community. To continue the momentum of your marketing efforts and improve community involvement, you need to keep your school in a positive light all year long. Try these tips for taking advantage of the summer months to build a stronger presence and show off your community involvement efforts.
Social Media
Now is the time to beef up your presence on social media by posting photos of events held throughout the previous year, suggesting engaging (and educational) activities for kids and parents and talking up both your successes and future goals. For the best success, create engaging graphics or take advantage of quality photos from community activities and post them daily. Graphics and photos increase reader involvement and help with positively branding your school. If you don't have the time to post every day, take advantage of scheduling software to publish your posts when the time is right. This way, you can create a whole week (or month) worth of pertinent posts, such as reminders of scheduled activities, within an afternoon.
Community Involvement
Participate in community activities and make a point to post about them with your social media accounts. Include photos and interesting details to draw attention and show community members you care about and are involved in the community. Take advantage of stories about current and previous students and staff who are doing great things in the community.
Blogging
Start a school blog and post to it regularly. This is an excellent opportunity to share information and increase parent and community involvement with your school. Consider guest posts by community members, teachers and staff, or students who are up to the task. Don't forget to link your blog to your social media accounts so that each new blog post gets all the attention it deserves. You can even use the blog to post DIY and craft projects for students; post suggested reading lists and promote other educational opportunities in the community. Maintaining a school blog will help improve communications between your school, community members and parents.
School Website
It is easy to let the school website slide, especially during the summer when you are functioning with fewer staff members, but now is the time to review your site and make sure everything is up-to-date. Families looking for the best schools for their children may be browsing your site during the summer. Give them all the info they need, and a way to sign up for more info once school resumes in the fall. Respond to inquiries promptly and don't fall victim to an abandoned website that sits idle for the summer.
At Allerton Hill Consulting, we're here to help with all of your school needs. Connecting schools within the community is what we do best! Contact us today to get started.