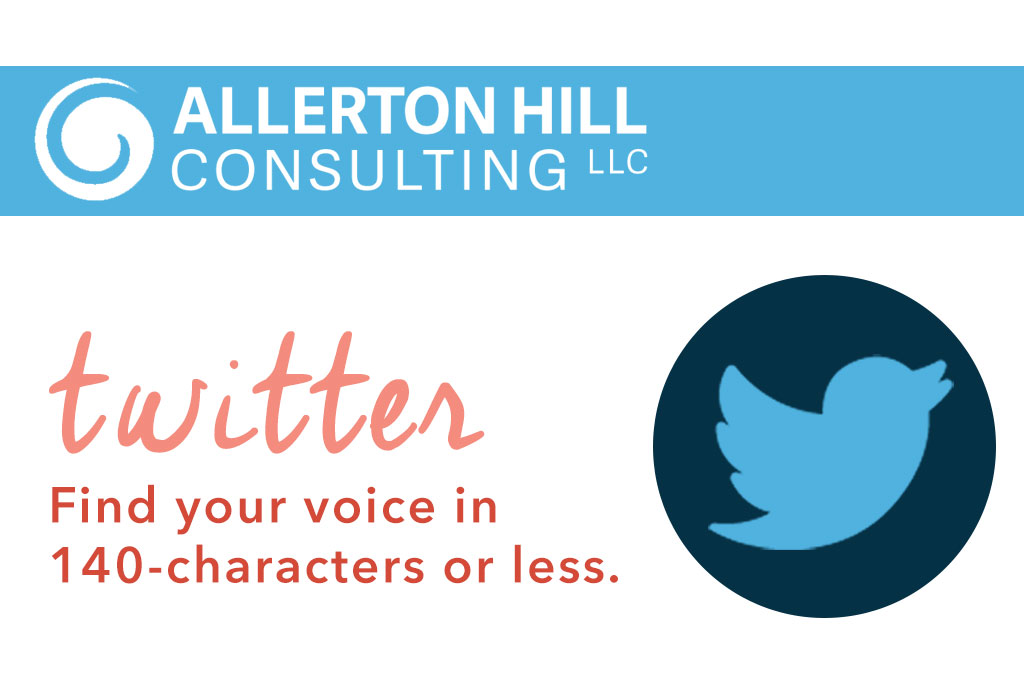 September 4, 2015
When advising clients on social media, Allerton Hill always stresses the importance of Twitter. If you are going to post on anything daily, make it Twitter. While Facebook may boast more users, Twitter has a more active user base who access the site with more regularity. Over half of all Twitter users access the site 2 or more times a day and 30% use it for over 90 minutes a day.
An important statistic to remember is that 60% of Twitter users are accessing the network via their mobile device. What does this mean for you?
1. Make sure that any links you are using are mobile-friendly
2. Knowing that your users are consistently connected throughout the day, actively seeking new information, use Twitter for multiple posts, to connect directly with your user base and to reinforce core themes
What is Twitter?
Twitter is a social media platform that takes full advantage of mobile browsing and today's short attention spans. It limits your messages to 140 characters but instead of focusing on the restriction, consider how this criteria forces you to focus your message and get it out there. Tweets can include links, photos and short videos to emphasize your message and encourage engagement.
By following accounts with similar interests, you can collect information and ideas about topics that important to you. You should also actively cultivate your own followers to grow discussion and to help you share important information.
All of the Tweets from accounts that you follow will show up on your timeline where you can read them, follow their links, retweet the Tweet to your own followers, reply to the Tweeter or favorite a Tweet.
Tweet: A 140-character message.
Retweet (RT): Re-sharing someone else's tweet.
Mention (@): A way to reference another user by his username in a tweet (e.g. @outreach_expert). Users are notified when @mentioned. It's a way to conduct discussions with other users in a public realm.
Direct Message (DM): A private, 140-character message between two people. You can decide whether to accept a Direct Message from any Twitter user, or only from users you are following. Note: You may only DM a user who follows you.
Hashtag (#): A way to denote a topic of conversation or participate in a larger linked discussion (e.g. #backtoschool, #vote). A hashtag is a discovery tool that allows others to find your tweets, based on topics. You can also click on a hashtag to see all the tweets that mention it in real time — even from people you don't follow.
Best Practices for Schools
Don't only think about the appropriateness of your Tweets but also who you follow, Favorite and ReTweet. If your personal interests may be considered distracting or inappropriate for students, DO NOT interact with or even follow those accounts from any official school Twitter account. Be just as mindful as to how you and with whom you interact on your personal accounts if they are not set to private.
Variety is always the spice of life and the Twitter feed. Share content created by you mixed with content curated from other sources – just make sure it is all relevant and interesting to your followers. Also mix up the kind of content you are sharing use a healthy mix of videos, questions, links, photos and retweets to catch your users eyes.
Respond to any follower who @mentions you or retweets you. This might be as simple as marking those Tweets as a "favorite" but make sure to answer any questions with a public response and, if warranted, follow up with a private direct message.
Make sure that anyone who is given access to your Twitter account is well aware of key themes, editorial calendars and both your expectations and their responsibilities. Twitter gaffes go viral quickly so be especially careful about handing over the keys to Twitter.
Avoid negative tweets and do not engage with trolls (Twitter followers trying to bait you into a public argument).
While 140 characters can be limiting, resist using common slang and shortcuts – use proper grammar and capitalize proper nouns.
@mention and retweet to connect with your followers and grow your base. Use the @mention to get their attention but make sure your content is relevant and follower-worthy.
District Twitter & Superintendent Twitter
We highly recommend not only using a district-wide official Twitter account but also recommend that your Superintendent has a separate account as well. These accounts should work in tandem to emphasize key messages, promote school events and retweet positive articles about the school district, teachers and students. However, the superintendent account should also integrate some of your super's personality and include regular "asides" that connect with your user base. Commenting on local sports teams, favorite foods, big life events and more will help humanize your superintendent and make the entire administration more approachable.
The superintendent should also host monthly Twitter chats on their personal handle. Advertise the Twitter chat across social media platforms and also using "backpack express" for at least 1 week prior to the chat.  Choose a unique hashtag that will denote the chat – eg. #MPSSuperChat – and be ready to answer questions!
Open the chat for questions:
"I'm sitting down now with a cup of chai tea and am ready for your questions! Ask your superintendent anything with #MPSSuperChat"
Users will use this hashtag to send questions during the specified time. Answer questions with an @mention but keep them in the public feed rather than DM. Answer as thoroughly as you can but remember to follow up with more information for any questions that require investigation or a longer answer.
When the Twitter chat is over, close again so people know to stop sending questions.
"Thanks so much for your questions! I'm glad you are all as invested in our schools' success as I am! See you next month! #MPSSuperChat"
Allerton Hill Consulting can help you craft a Twitter strategy that works with your school district's core themes, that will share important news and connect you with your community on a daily basis. From finding your key messages to creating a weekly editorial calendar, Allerton Hill Consulting's social media experts are here to help! For more information, please contact us for a consultation.